How To Sell Beats Online Like A Pro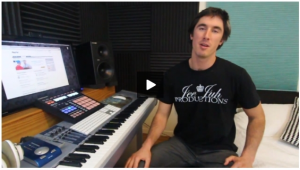 How To Sell Beats Online Like A Pro :
So you love making beats? You're not doing it just for the money, you're doing it because it's your passion, right? That's all good and nice, but…wouldn't it be nice to do this professionally? Wouldn't it be nice to actually sell your beats to music artists, who are constantly looking for instrumentals to purchase? School teachers don't teach in front of empty classrooms. And they sure wouldn't get paid for it either. So why not make a living off creating music? There are millions of ways to make get your music to the masses of internet users. And i know that there's also millions of beat makers, or music producers asking them selves: "How do i sell my beats?". They have been making beats for years, but they just can't find costumers for their instrumentals. "How To Sell Beats Online Like A Pro" shows you exactly how to make people aware of your music. You're going to learn how to build profitable websites, how to get traffic
, promote yourself, create a brand and so on. I would've NEVER created a website called King-Vis Beats, offering music instrumentals from rap to r&b, soul, pop, and dance music, if it wasn't for accidentally watching a video of Mike Lightner talking about how he easily makes over $7,000 a month. But you got to understand, it only works easy for a person who's spent a huge amount of his private life on studying all the "secrets" of online marketing. This great beat selling course  basically teaches you how to become a businessman using online marketing strategies
like, how to rank high in google so that people can easily find you, even if they're not looking for you. That is very helpful, as you don't want to always search artists who'll buy your beats. You want them to find YOU, or the products that you offer (beats). I recommend the "How To Sell Beats Online Like A Pro" course (which includes 21 videos, and an ebook) to music producers that really have the ambition to start their own online business
. It will work if you put 100% of your concentration into it and follow all important steps. Don't buy this product if you're looking for a dude that's literally handing you out a thousand bucks for no reason. You're living in a dream world if you think that all you have to do is…watch, copy, paste! That won't work at all! You got to have your own ideas and use the methods that Mike Lightner teaches. Be 100% committed if you really want to make money
with your beats. Then you will succeed! If you want to get started and run your own business, then here you go!
How Do I Sell My Beats? – Blog